Browsing articles from "May, 2012"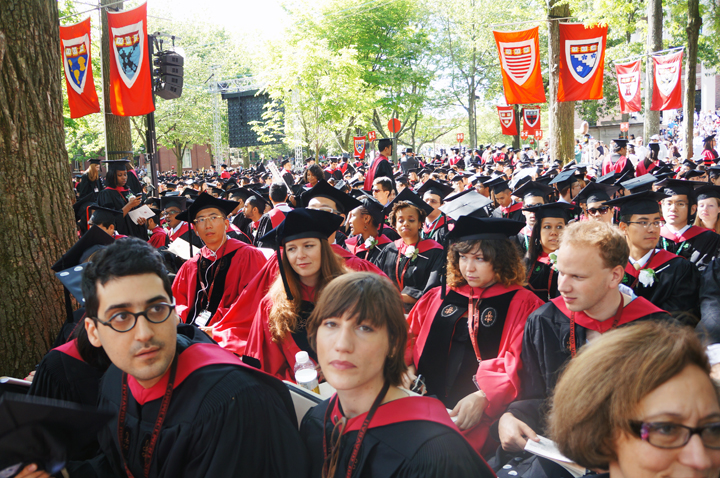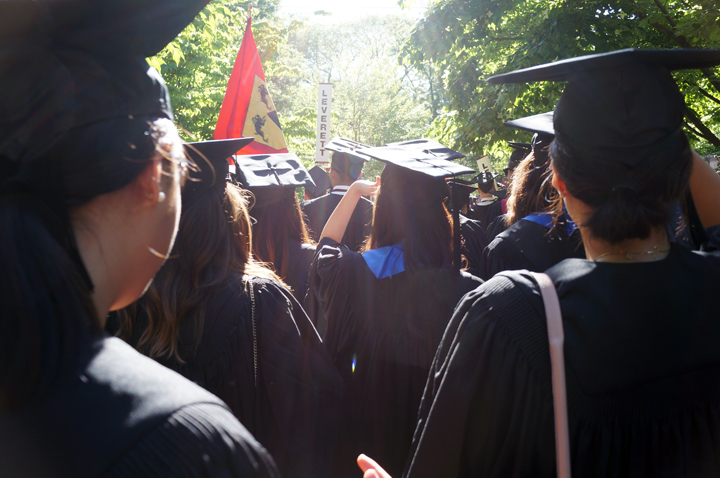 Congrats to the Harvard class of 2012 on all of your hard work!  Those miserable sleepless nights cramming and writing last-minute papers have finally paid off! Of course, I've graduated along with the class as well——but have no fear, for those of you who avidly follow Books&Liquor, as I'll be sticking around Cambridge. I'll be working and living here, so I will still update the blog. I'm hopping on a plane to Greece for a vacation with all of my roommates (in a few hours, in fact) but I'll certainly keep the blog updated in the meantime with some of the photographs that I've taken over the past few weeks that I've been a bit too busy to get around to. See you soon!
1 Comment
During Class Day: graduating senior Hanna. I often bump into Hanna in the Square or catch her walking around the River Houses dressed in interesting garb, and I always intend to photograph her, but in every instance I've not had my camera with me. I'm very glad to have spotted her today during the class day picnic event——probably one of my last chances to have featured her on this blog! Of course, donning an elegant vintage dress and bag. Anyway, congrats to Hanna on your four years of hard work here——hope to catch you during graduation tomorrow!
No Comments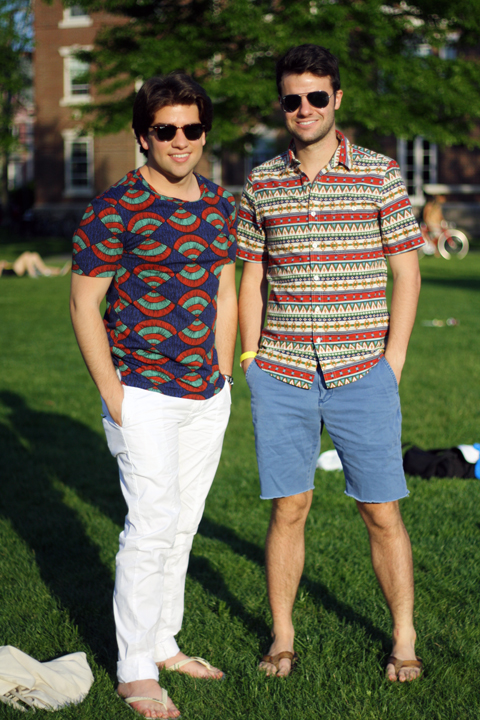 In the Quad during the Senior Luau: two Dannys, one studying neurobiology and the other pursuing molecular and cellular biology, both in awesome patterned shirts.
You might also remember that each have actually been featured on Books&Liquor  on separate occasions: here, and here. If I recall correctly, both were photographed during the fall semester. It's interesting to see how personal style changes over seasons, isn't it?
No Comments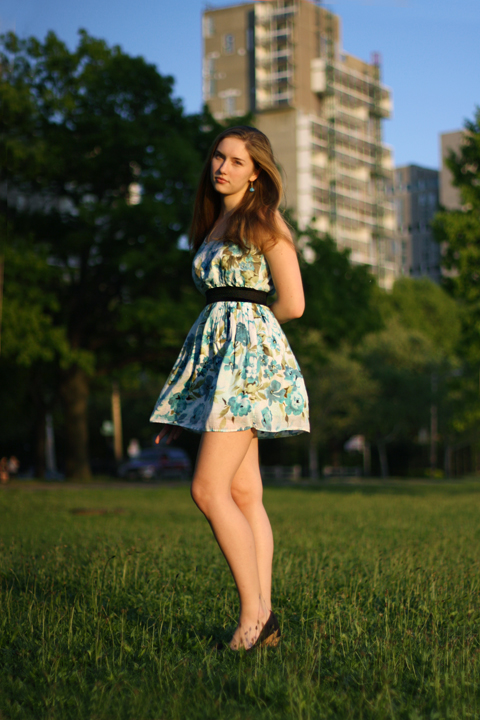 Along the Charles River: History of Art and Architecture concentrator, musician (voice in Collegium and a violinist in BachSoc), and now-senior Ariana in a blue flower print tea dress with matching earrings.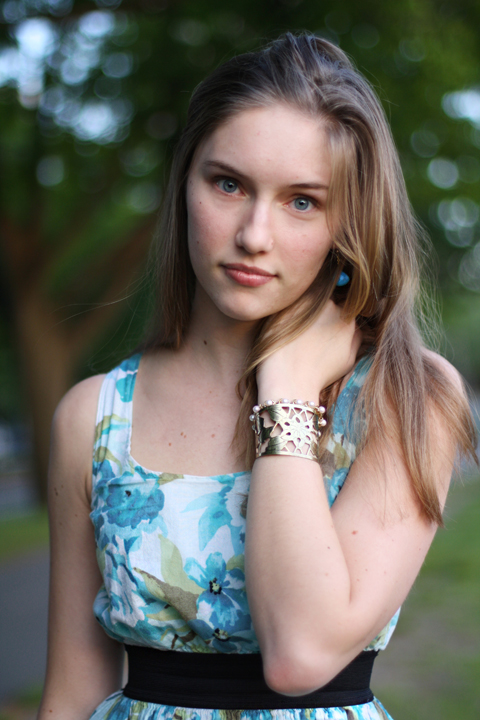 According to Ariana:  "My closet is a hodgepodge of items from various stores and the occasional great find from my mom's closet or my grandma's jewelry boxes. And the earrings——handmade by me. I've been making jewelry for years."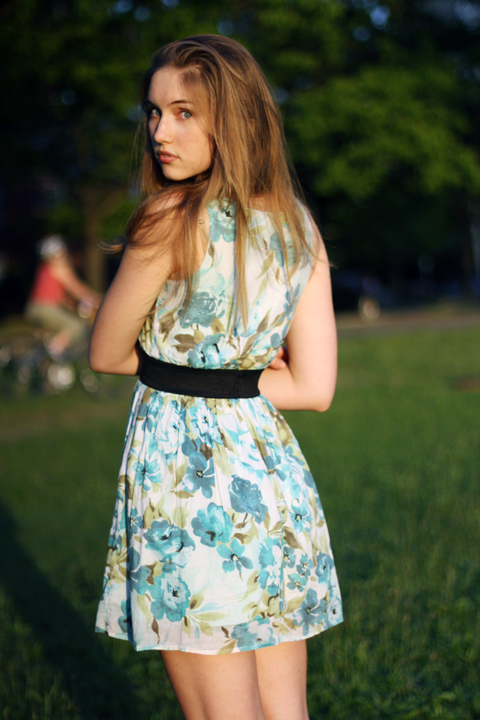 "I'm from South Florida. My obsession is with sundresses. In fact one of my end-of-year banquet awards was for Best Sundresses."
No Comments
On Widener steps: Shaved hair, red lips, black dress. Simple and stunning.
4 Comments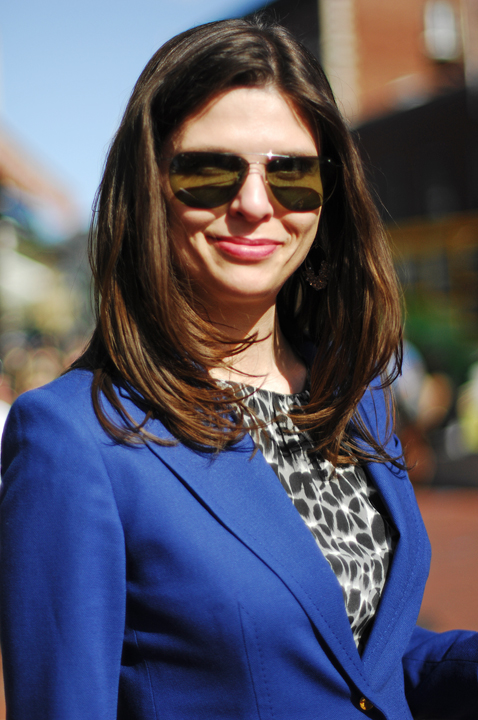 An incredibly eye catching pairing of royal blue with a monotone pattern.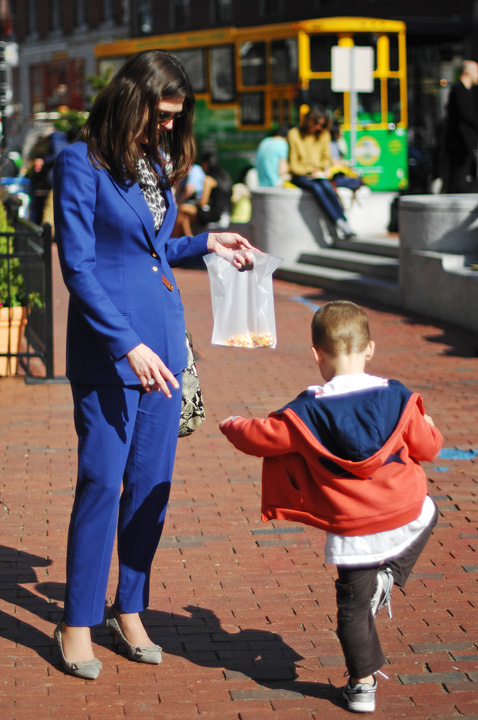 No Comments
Outside of Cafe Pamplona: a modern-day Marilyn Monroe? Lexi was sipping a cup of coffee with a friend when I spotted her bleach-blond hair, which stood out from nearly a while away.
As an art history major at Amherst, she chose to tattoo her back with reference to a work of art she loves.
Bubblegum dress, pearl earrings, circle-frame shades, short blond hair: super fun and flirty!
2 Comments
With interesting textures and darker colors, they definitely stood out from the typical Yard crowd. Neon rings, sheer blouses, torn fabric——pretty bold stuff!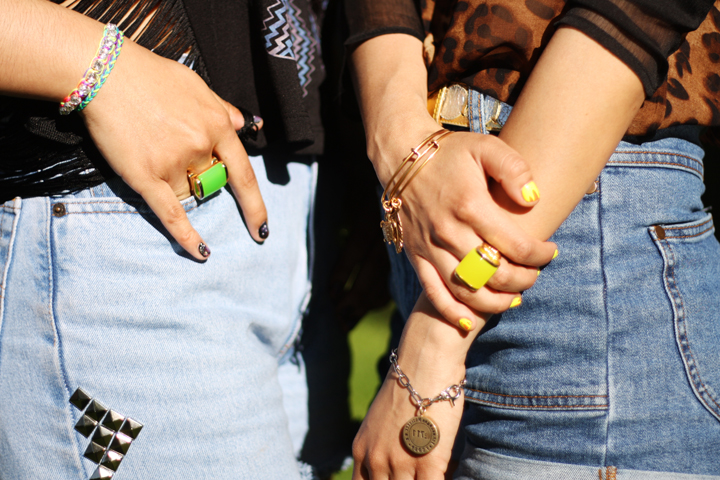 1 Comment
On Widener steps: Harvard senior Shereen, who looked exquisite wearing her airy floor-length dress. She said she bought it in Pakistan.
Fun with fabric.
I'm also quite fond of the cuff.
1 Comment