Browsing articles from "June, 2012"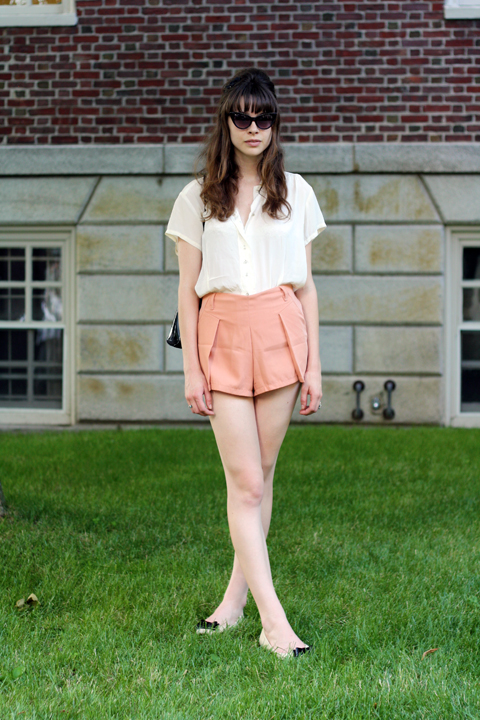 Spotted in the Yard: Simple outfit with ultra retro-feminine accessories: cat-eye sunglasses and bow-tie flats.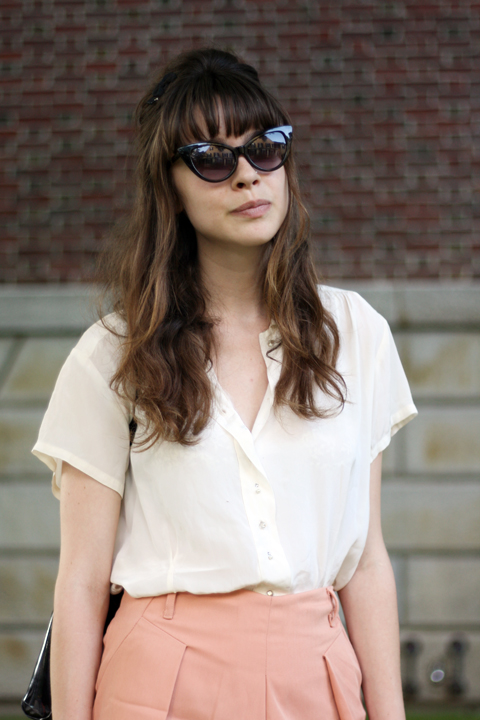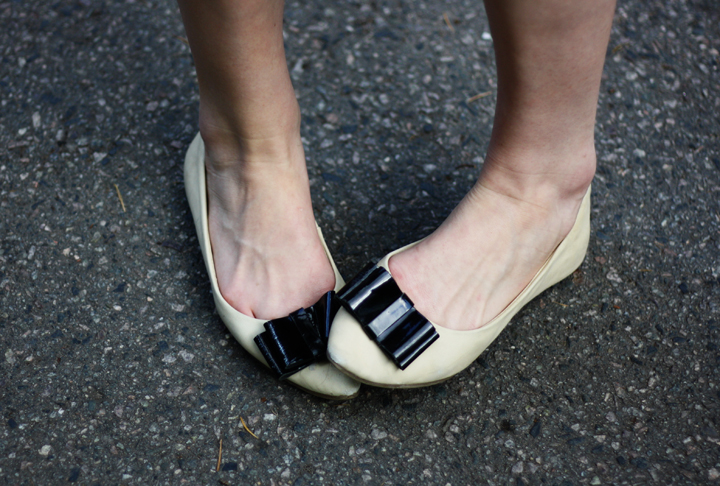 No Comments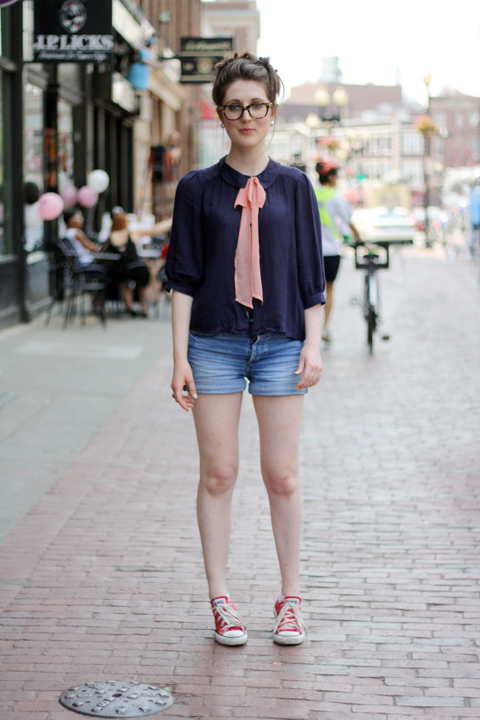 Spotted walking along Massachusetts Avenue, a young lady from Dublin named Hannah, who decided spend her summer in Harvard Square, working for
Urban Outfitters
. I caught her as she was just finishing up her shift and headed home for the evening.
1 Comment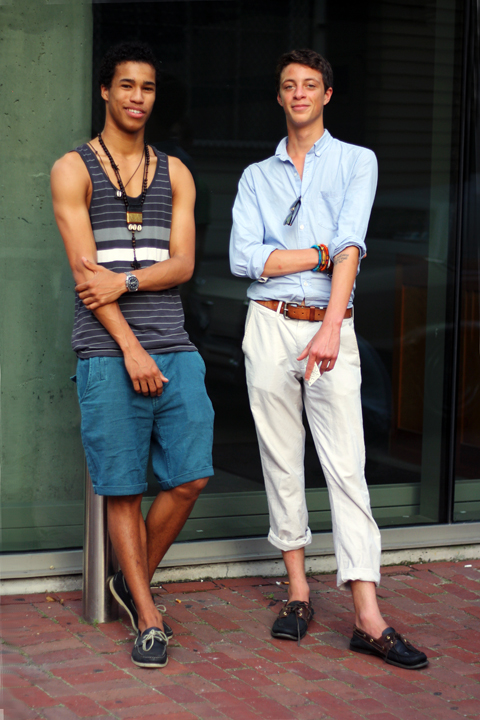 Spotted on Mt. Auburn street: two young gents who have just graduated from Cambridge Rindge and Latin. I like how the two of them are wearing boat shoes, but in very different ways.
3 Comments
I got the chance to snap some pretty awesome hairstyles for you guys to see (I believe all of the featured 'dos here are courtesy of the salon), along with some interesting garb. Funky colors and patterns seemed to be the theme for the night.
And this lady here is one of the receptionists for the salon, wearing a vintage-themed outfit. The hair especially speaks 1940s to me!
No Comments
Phew! Back from abroad, and now settling in here in Cambridge. Though, even in my jet-lagged delirium, it was hard to miss this neon-attired artist, Jordan Piantedosi, who was walking through The Pit (the brick area around the subway station entrance) with her artwork held under one arm.
Crazy sunglasses. She had a bit of a kooky Lady Gaga-esque absurdity about her that I really appreciated.
And I believe she said that this painting was a self-portrait of herself as a noble knight.
6 Comments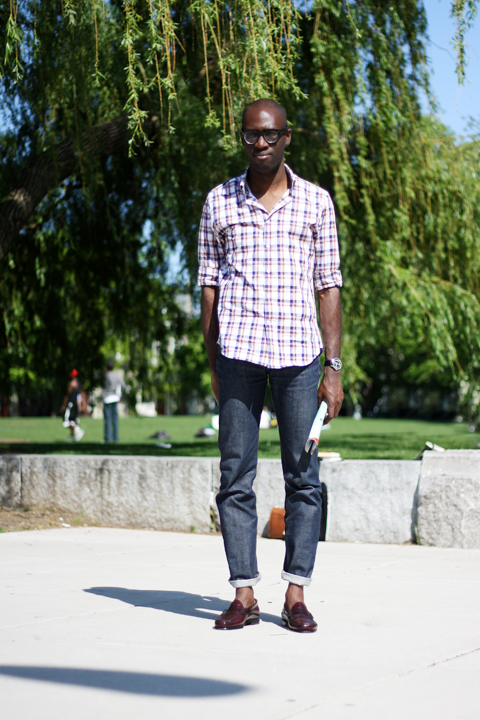 So I've country-hopped, and now find myself thoroughly jet-lagged in Singapore, hanging out with Colin and some other friends. The food is incredible here, though it's extremely hot and humid (feels like constantly bring wrapped in a warm wet towel). Enjoying my stay thus far, but wanted to leave you a quick post before exploring some more of the city.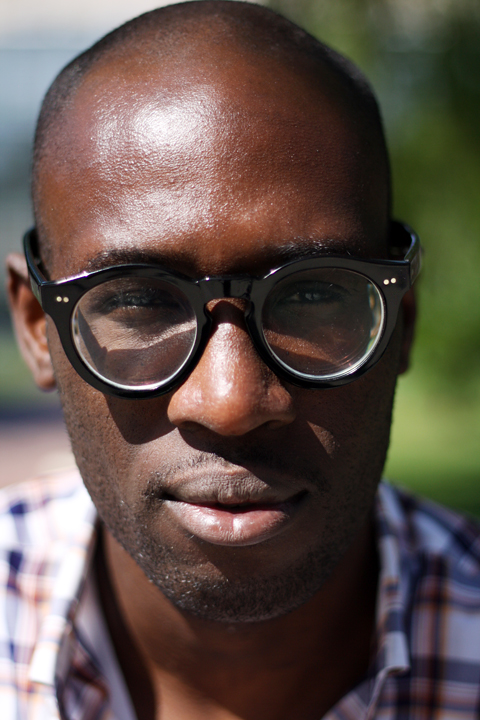 Featured is surgeon-in-training Ani, outside of the Cambridge Public Library. A very understated outfit that is made complete by subtle attention to detail, such as the choice of circular thick-rimmed glasses and cuffed pant legs.
No Comments
Hello again from abroad. Thought I'd take a break from rafting around in the Mediterranean and drop in a short post. I took these photos of a now-graduated senior named Siran a couple of weeks ago as I was hanging about on the patio outside Tory Row. I really liked the sherbet orange dress, whose simple silhouette emphasized the massive X running across its backside.
1 Comment