Browsing articles from "August, 2012"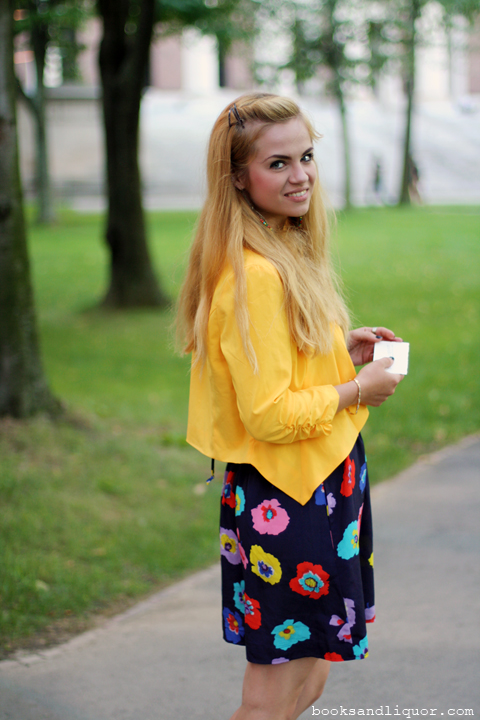 In Harvard Yard: a blond Ukrainian tourist snapping photos in a summery canary yellow jacket paired with a dress in a psychedelic poppy print. And a floral print handbag whose colors are echoed in her bracelets.
No Comments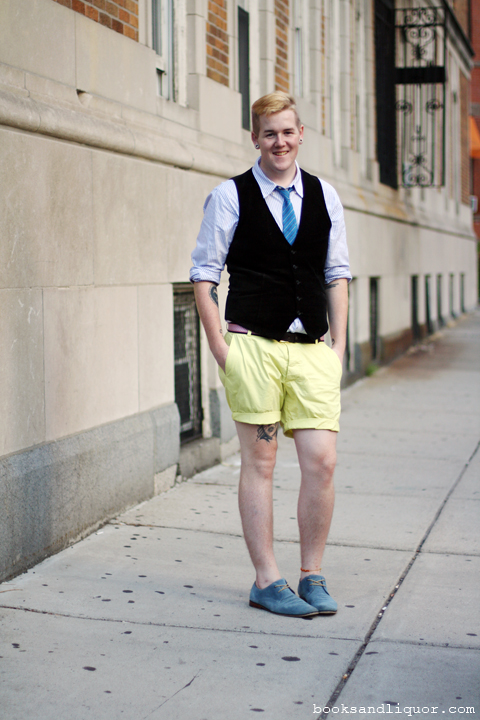 I spotted Patrick from afar, donning some laser yellow shorts, worn exceptionally short for the norm, in order to show off a glimpse of his awesome Amy Winehouse tattoo.
When asked about it he responded, "Oh yeah, Amy Winehouse is my only girlfriend."
It came as no surprise to me that Patrick worked at Aldo in the Prudential Center, especially given his incredible choice of perforated suede oxfords shoes.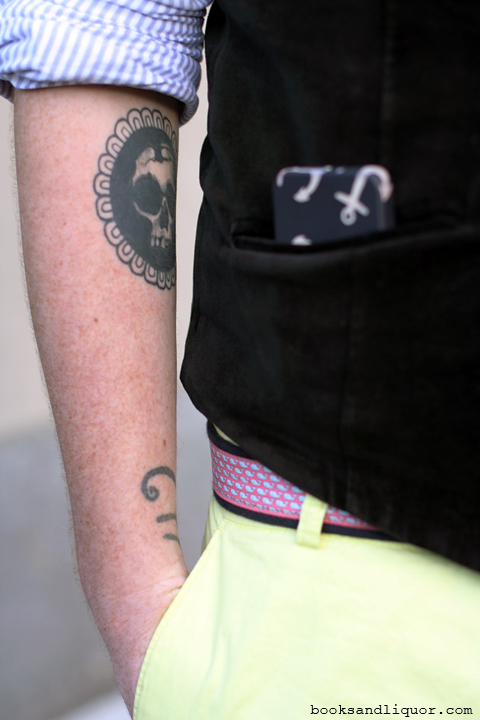 And the adorable little nautical details–––blue whales and an iPhone in an anchor case!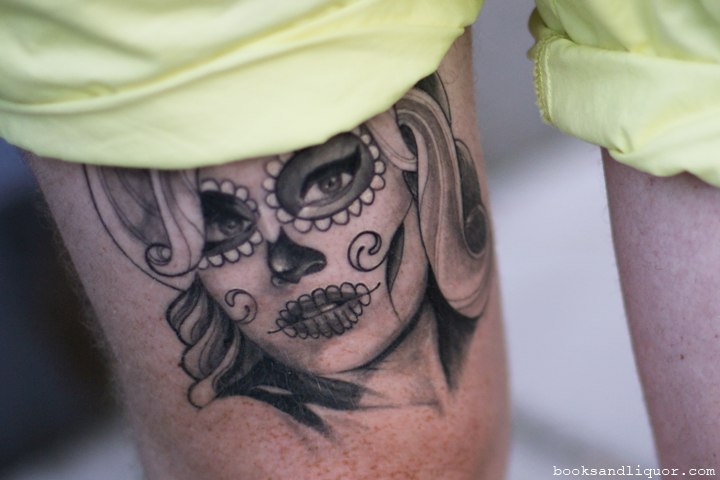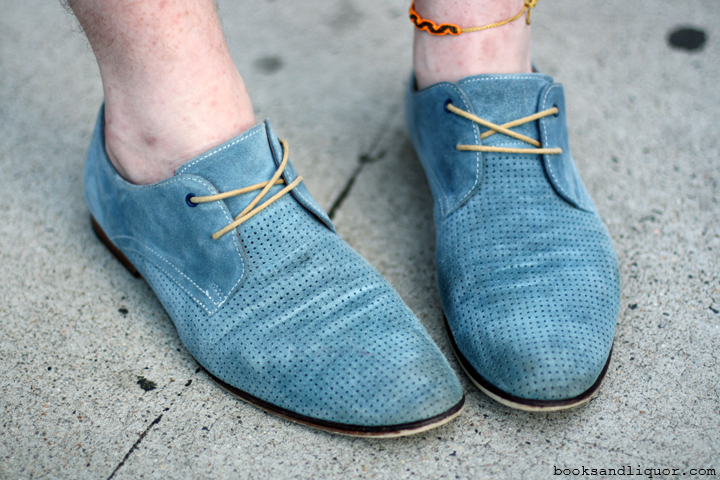 2 Comments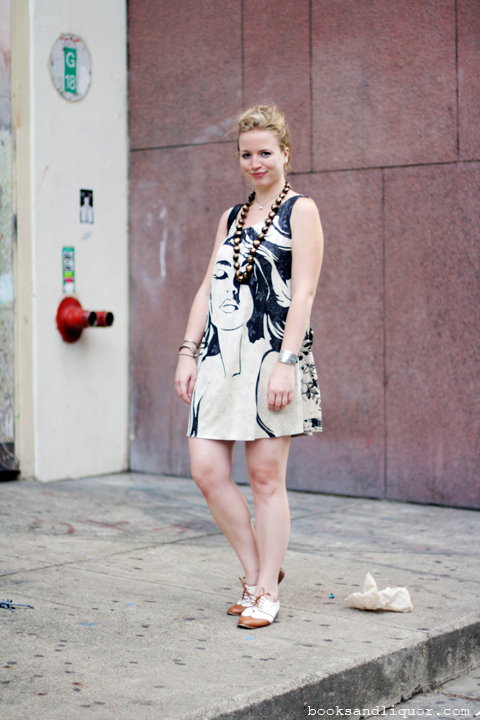 On Newbury Street: Krista Casey, who comprises one half of the creative genius of
Boston Street Style
. We met up beforehand to attend the
Boston Bloggers
Meet and Greet Event at Mass Ave Tavern. Kind of meta, having one street photographer photographing another, but I couldn't help it—her high contrast print dress and vintage oxford shoes were far too badass to pass up.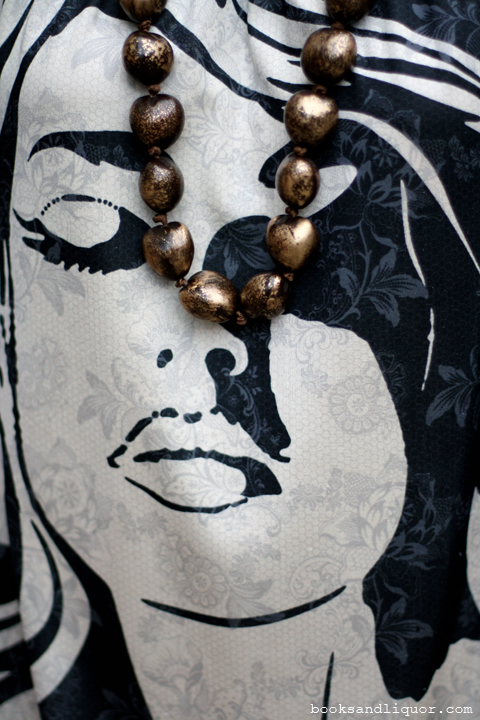 Close up of the print and shoes.
Also, it was great meeting everyone at the Meet & Greet, and hearing about your lives beyond the Blogosphere. Looking forward to chatting again soon!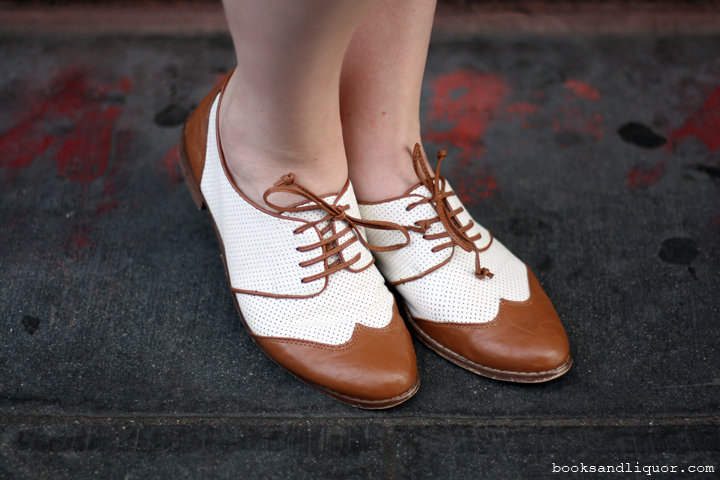 3 Comments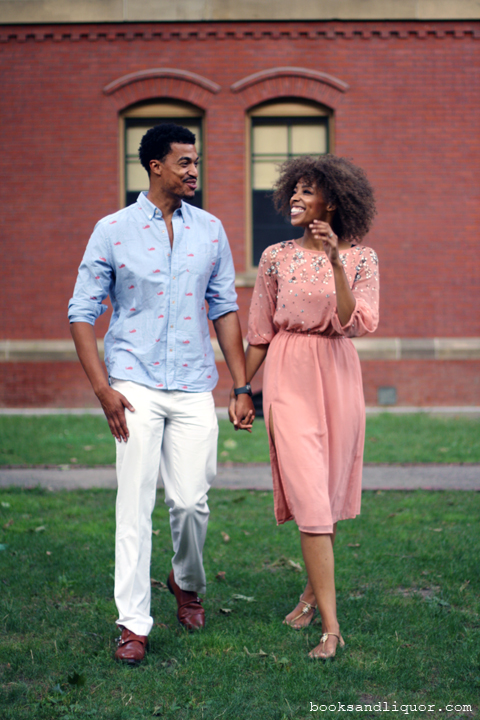 In Harvard Yard: the most gorgeous and stylish couple I've ever seen. Newly married too––congratulations!
On him, a blue oxford critter shirt with red whales, khakis, and monk strap shoes. On her, a pink dress (looks like a vintage 1970s piece to me) with angel sleeves and adorable sequins. My favorite part of her look though, was her hair, which somehow had such a sun-catching radiance!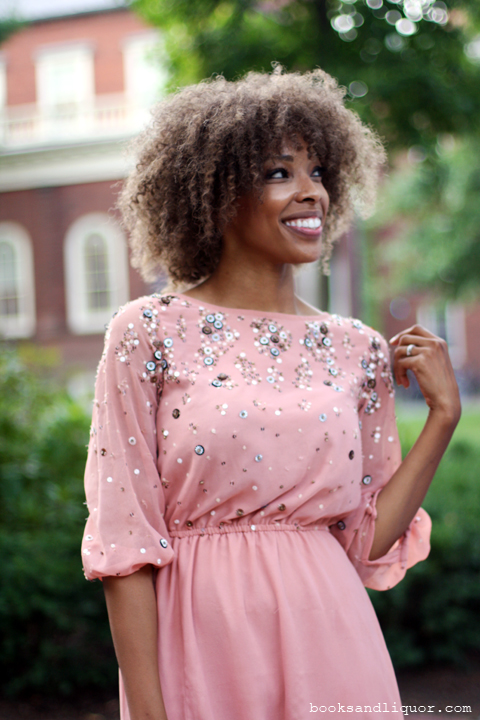 She'll be starting her first year at the Ed school. Good luck!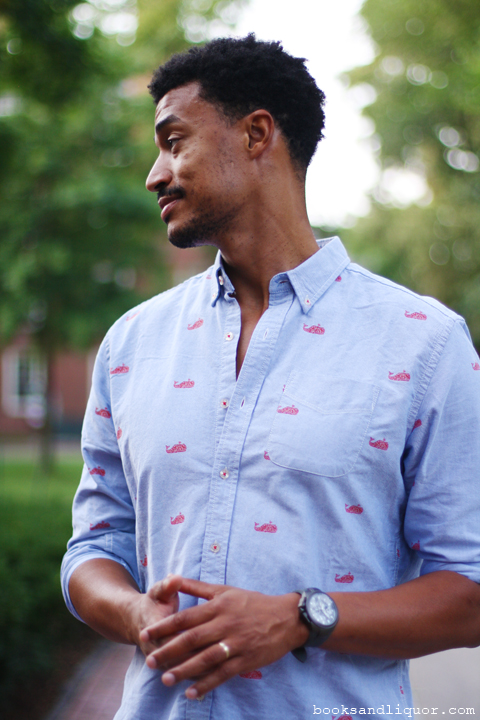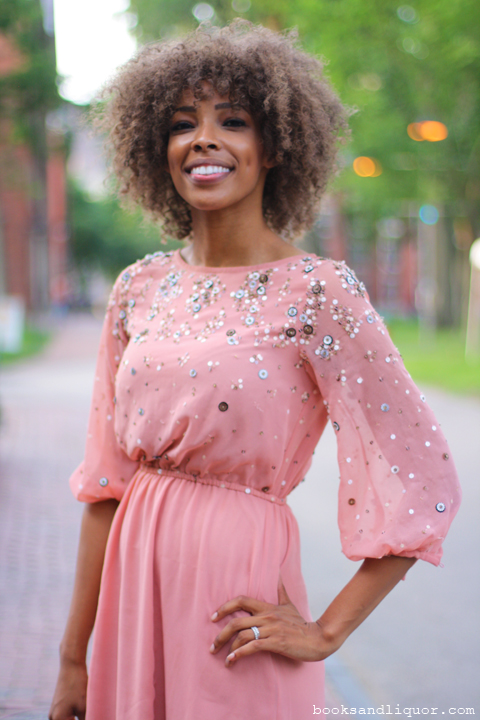 2 Comments
In Allston: a huge, flouncy vintage circle skirt bedecked with lines of sequins. It features a scenic watercolor painting of a quaint village, replete with houses, trees, and even figures in the distance. Forget patterned cloth——why not just wear a beautiful art print?
Sweet two-tone sunglasses.
1 Comment
So here I am, once again raving about color. It's incredible how the red enlivens this entire outfit, and brings out the blushy, rosy undertones of her fair skin.
Great details. Cherries, strawberries, red nail polish, lipstick, and roses in hair.
No Comments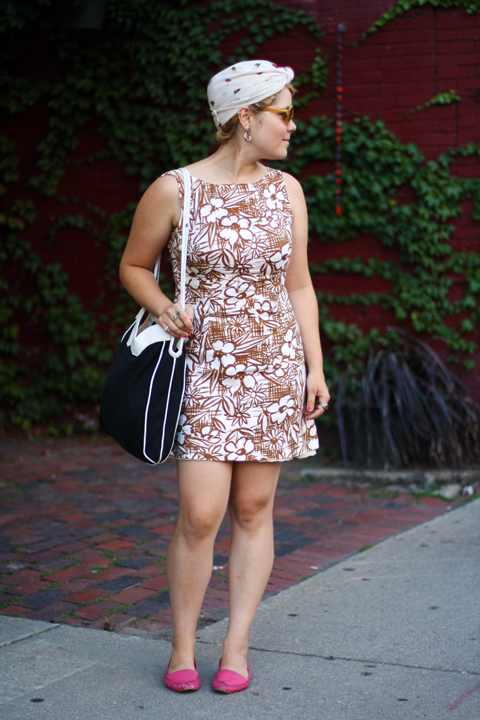 Outside of Oona's, one of their employees dressed in some amazing vintage garb. A head scarf with pinks that pop and match her shoes, an assortment of silver rings, and circular sunglasses with caramel yellow frames.
My favorite part of this outfit, of course, is the vintage shift dress———the crosshatch and flower print mimics a sketchbook drawing.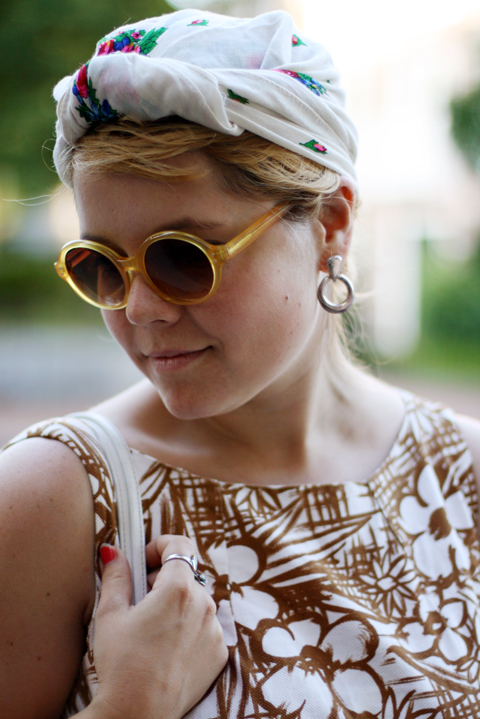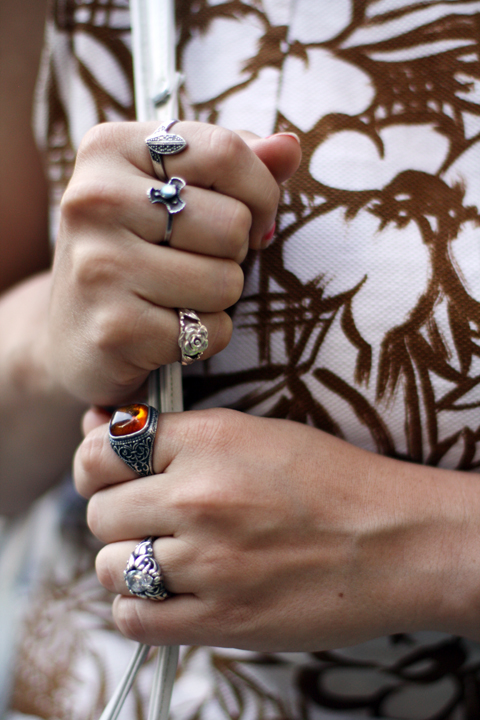 2 Comments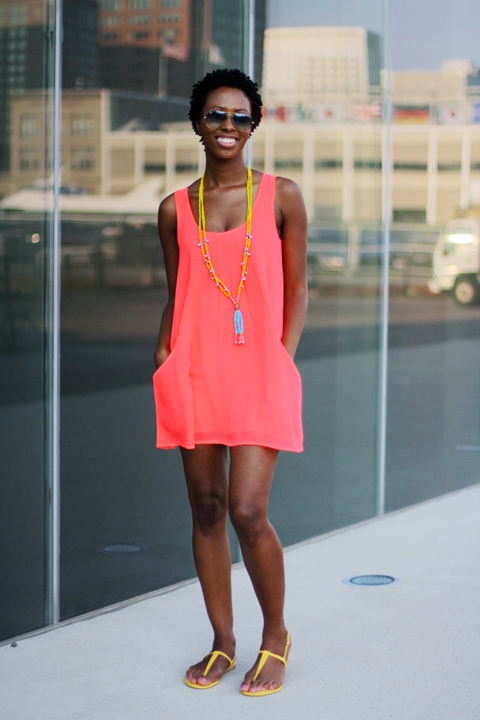 People tend to be reluctant to wear bright colors. Walking through Boston, I too often see conservative shades of grays, whites, neutrals, and pastels.  But why be afraid? Bright colors can light up an entire room.  They pair well with smiles and sunshiny days. And to an extent, bright colors can even help lift the wearer's own mood!
I love how this Bostonian's outfit attests to the power of bright colors. Simple, minimal accessories, no fancy silhouettes. She lets the intensity of the hues speak for itself.
1 Comment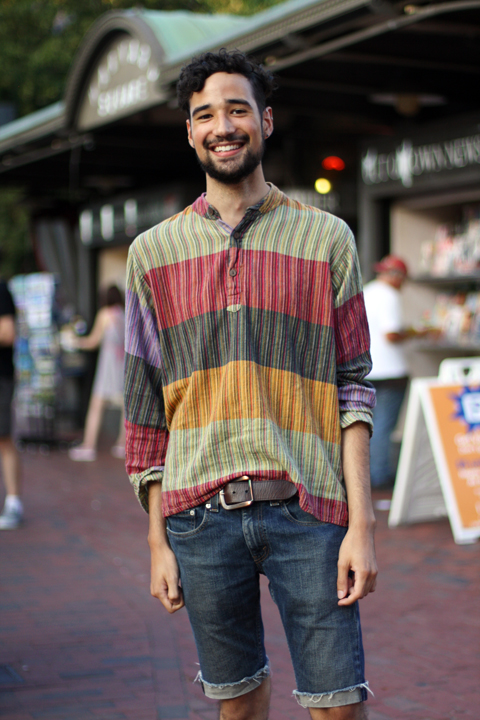 Spotted  in the Square: a BU student with an adorable smile and curly hair. Everything about his outfit was so breezy and relaxed — from the frayed and cuffed hem of his jean shorts, to the slouchiness of his shirt's fabric——I love the way the cloth so casually falls on his arms and over his belt. And notice how his shirt so interestingly harmonizes both vertical and horizontal stripes!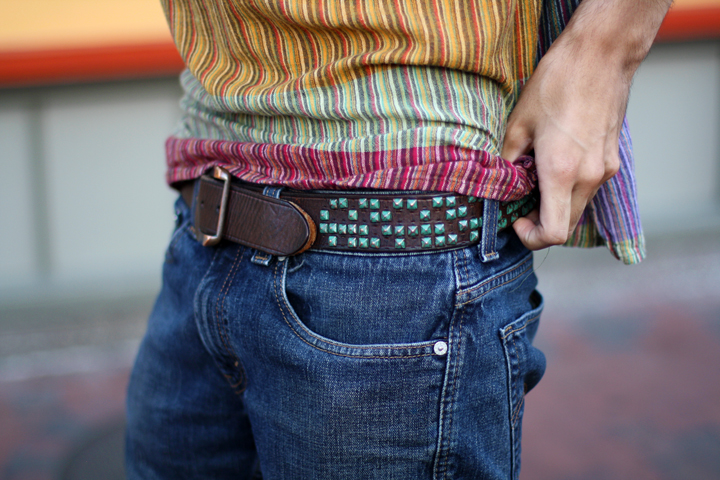 No Comments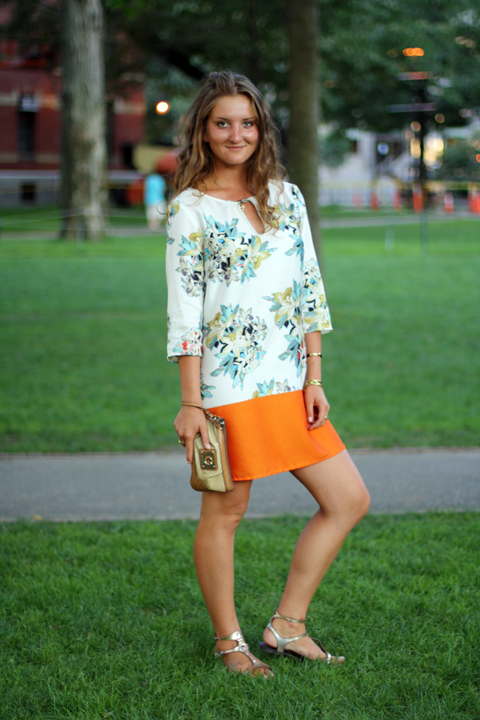 In Harvard Yard, a young Russian here for the summer at the Harvard Summer School. I liked the idea of a large block of color competing with wild prints and tousled hair.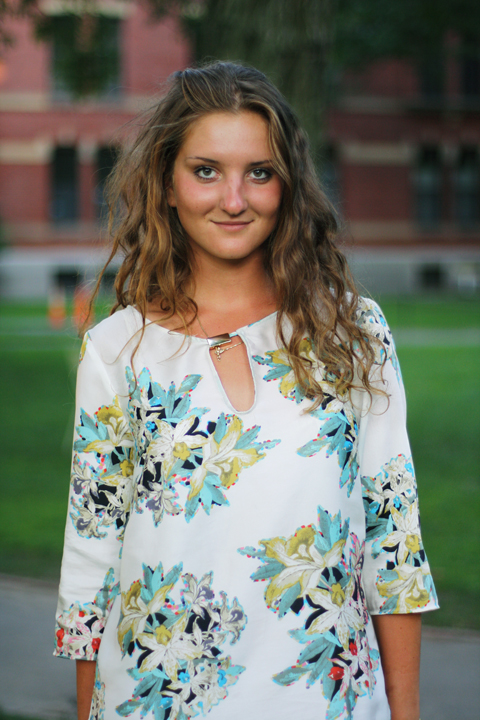 1 Comment