Browsing articles from "March, 2013"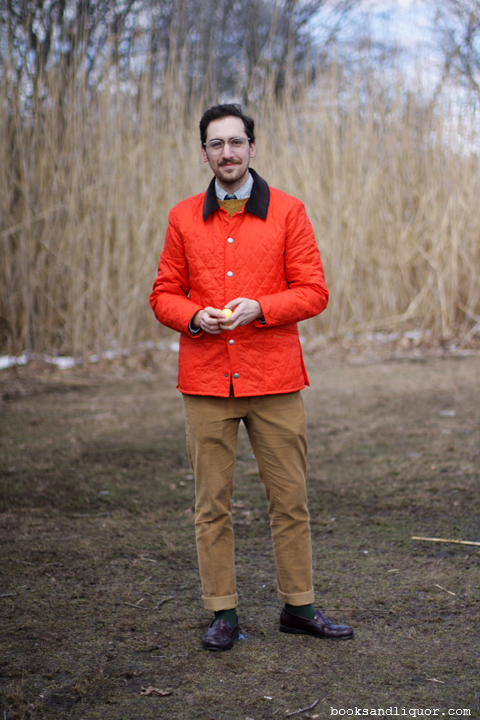 Happy Easter everyone. For my Easter festivities, I went on an egg hunt with some of my friends. Pictured here is David, appropriately attired in the brightest orange hunting coat I've ever seen. And clear glasses frames that I want.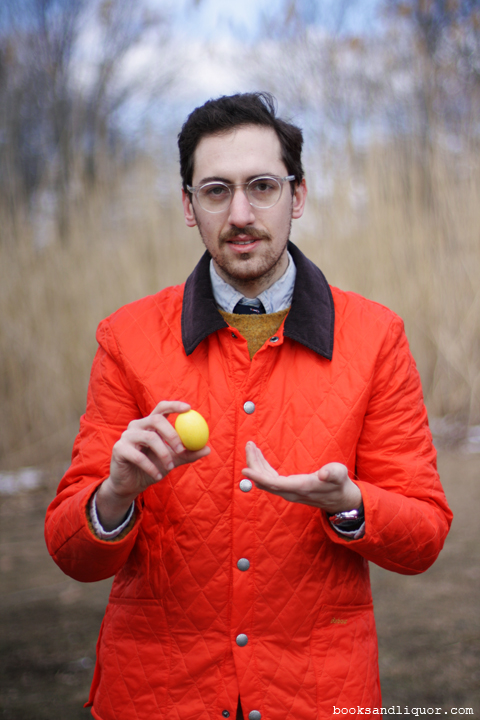 And holding an egg for you.
No Comments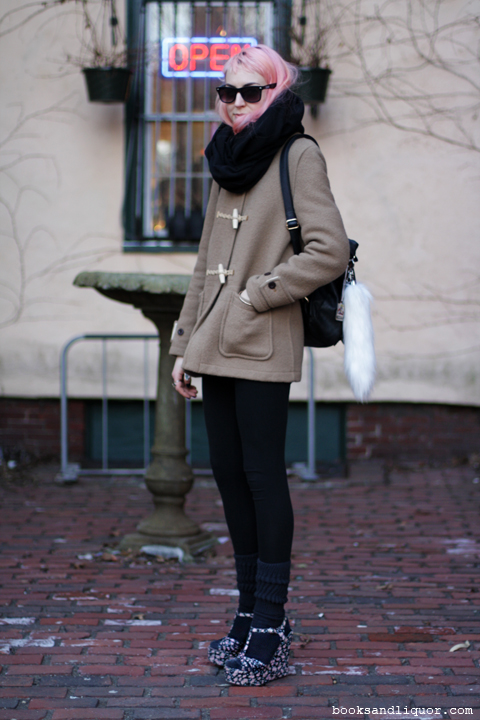 Perhaps even more rare of a sight than pink dyed hair is a huge white fur tail dangling off of someone's black leather backpack.
I met this lovely lady while I was shopping around at Oona's Vintage (my favorite store in the Square). She works in merchandising at Urban Outfitters.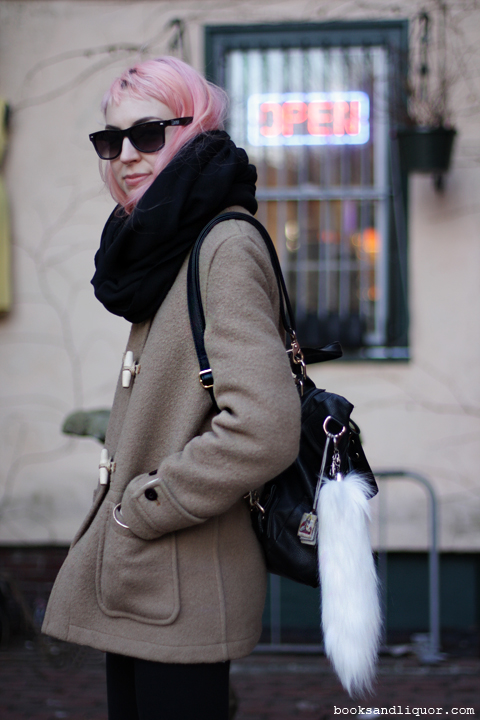 Seriously, could you be any cooler?
I asked her about her rings, and she said that they were all given to her by the different women that she's known throughout her life.
…Also, is that a molar tattooed onto her left ring finger? Because that's kind of awesome.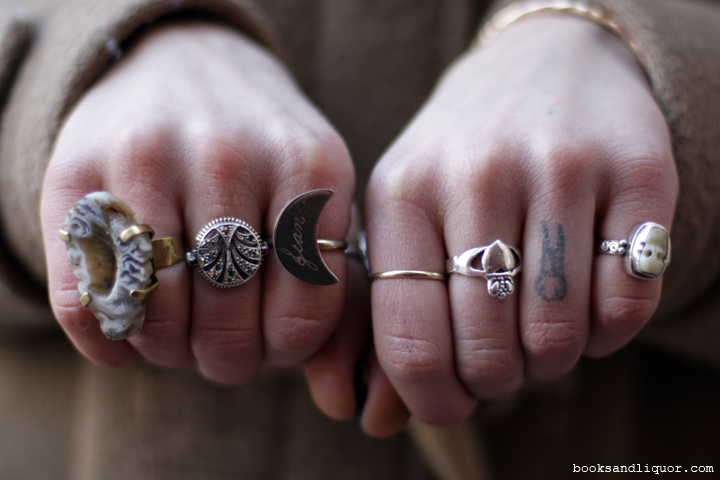 2 Comments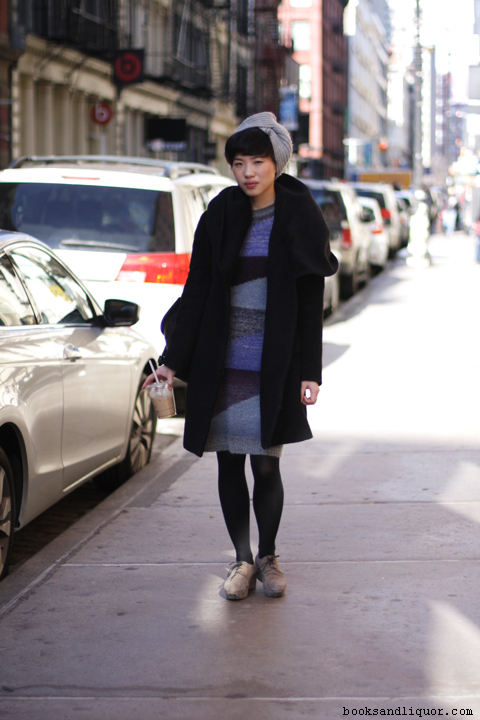 Also in New York: my friend Angela in a cocoon coat and chunky sweater dress.
I've rarely seen purple work well in an outfit, now that I think of it; it's a hard color to match, but Angela definitely pulls it off.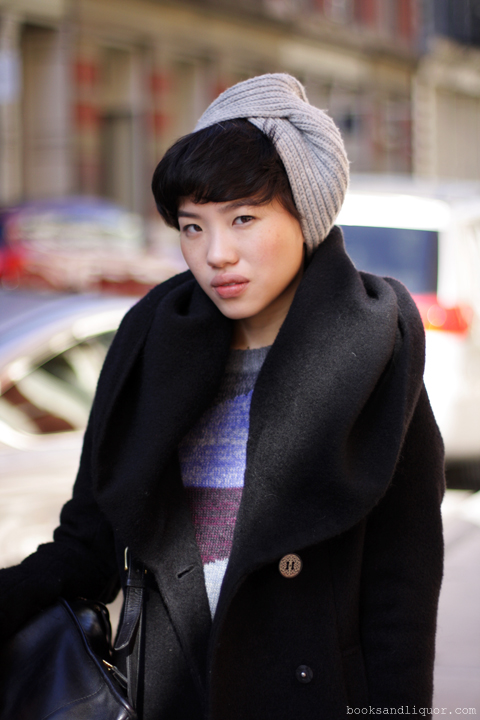 No Comments
I was in New York this past weekend, wandering around and about Soho (ended up going to Uniqlo, of course, the mecca of wardrobe staples) when I caught sight of this fabulous lady in round cat-eye sunglasses. I love her choice of neutral tones, and the eccentric pairing of two hair bandanas.
1 Comment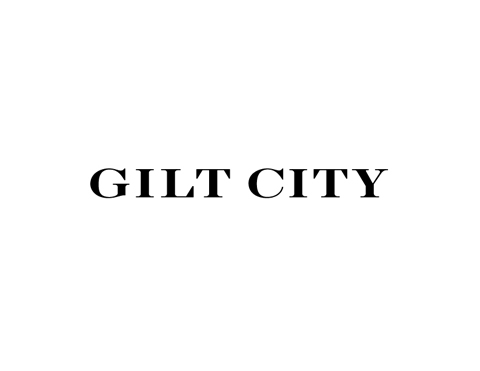 Ooh lah—looks like there's an event coming to town! Gilt is holding a two-day warehouse sale in Boston at the Artists for Humanity, and has asked Books & Liquor to help spread the word. Seems like a real party. We'll be there. We hope you will be too.
March 8, 9:30 pm – 11:30 pm
March 9, 9:00 am – 5:00 pm
Buy your tickets here.
Read some more info below from Gilt: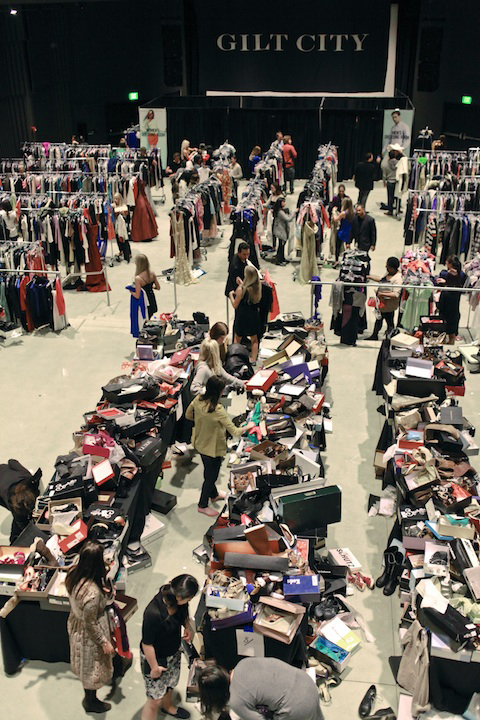 "We'll be offering up top designer brands for women, men, kids and home – all at up to 90% off retail prices. But this is not your average warehouse sale; it's more of a chic shopping party.Gilt City is all about creating amazing experiences for our members – and we've done just that!
We'll serve specialty cocktails and have a live DJ all day! Shoppers will find racks stocked with fashionable pieces of all kinds, including the newest shoe styles, jewelry, suits, jackets, denim, tops and outerwear for men, women and children."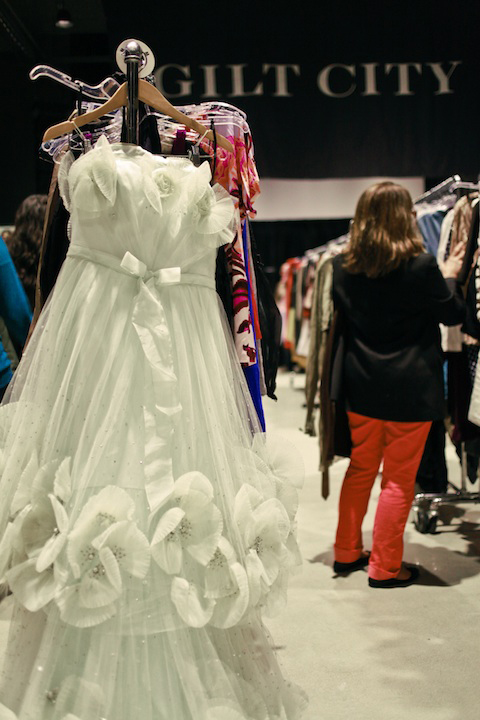 "During breaks perusing the racks, you can refuel with refreshments by AQUAhydrate and Coco Cafe—and enjoy beverages courtesy of La Marca Prosecco, Whitehaven Wine, New Amsterdam Vodka, Vita Coco and more.
There will also be a snacks and dipping station courtesy of Pretzel Crisps. And, of course, you can expect hundreds of top brands, from both up-and-coming young designers and the most venerable fashion houses. Happy shopping."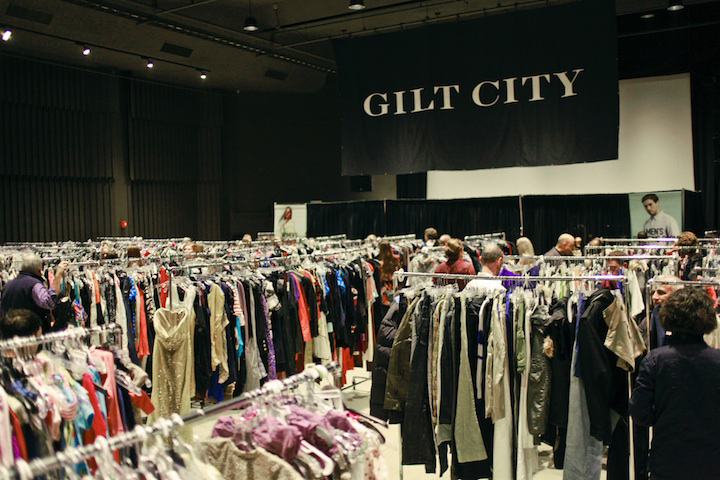 1 Comment