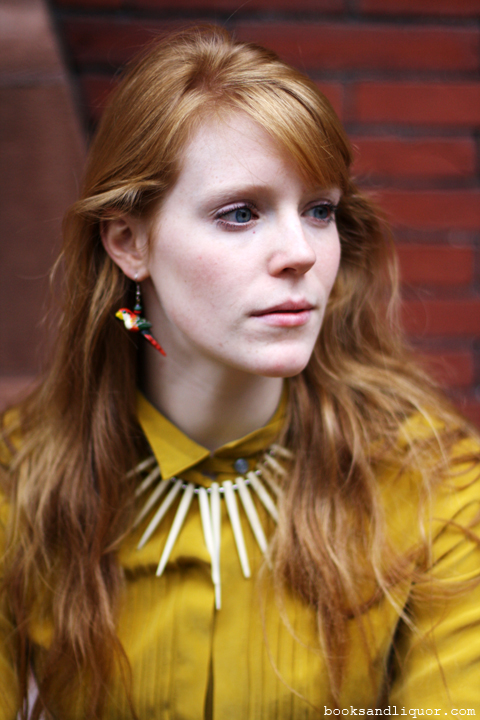 Hi all! Here's the first installment of a new Style Profile series that Books&Liquor will be hosting.
I've asked my friend Ali Clark, who graduated from Boston University last year with a degree in Art History, to pick out several of her favorite outfits, and to take photographs with me as she discusses some of her thoughts on style. Read below to see some of what she has to say.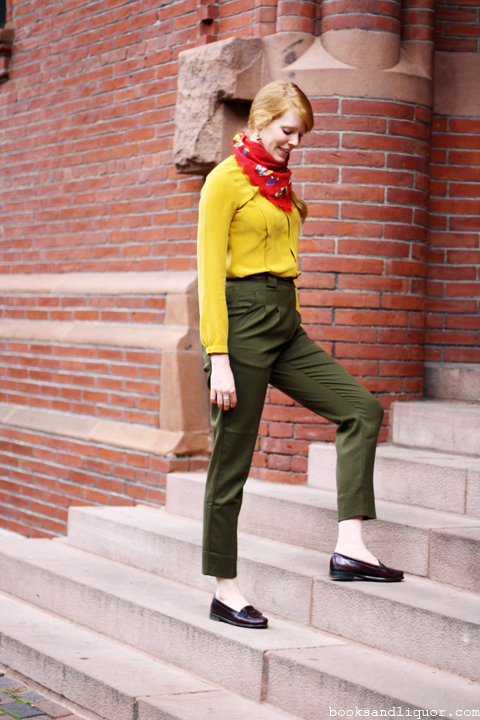 "Oh goodness, [my style influences] really run the gamut. I suppose it depends on my mood and the season, but it can vary from movies to fashion editorials to passersby on the street.
When I was (quite) younger in elementary school, I dressed to match my American Girl dolls, Kirsten and Felicity. Times have changed as I no longer imitate the colonial and pioneer era, but I still definitely appreciate historical garb. I suppose it is the art history major in me. I love Renaissance and Elizabethan portraits for the opulence and texture but I also love photographs from the 60's, 70's and 80's to see what folks were wearing."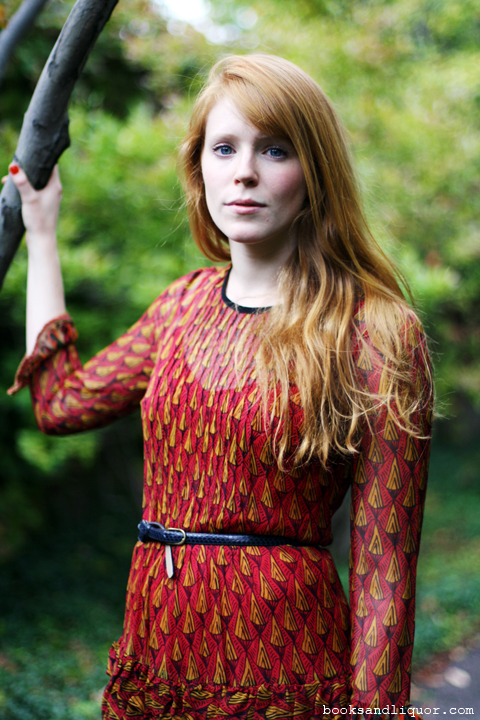 "I used to be quite afraid of color, as I felt like my hair was color enough for me. I'm starting to wear a bit more and love wearing red, which is usually taboo for gingers. Scarves and jewelry helped me get out of my color rut by allowing me to experiment gradually with color!"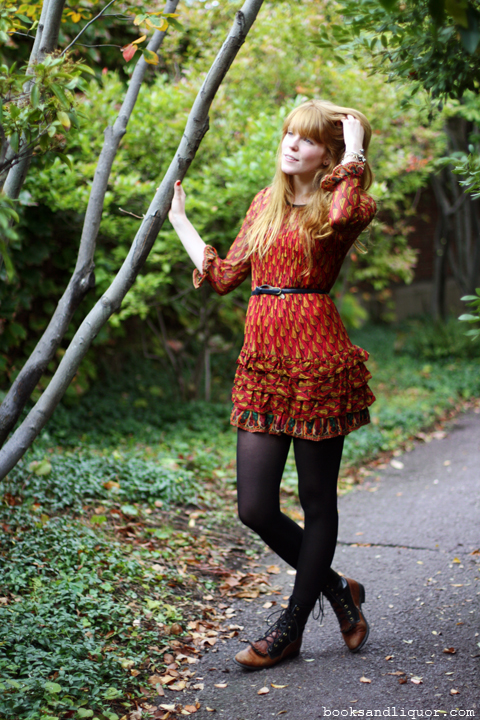 "I definitely prefer quality over quantity when it comes to clothes, so I'll shop just about anywhere I can find a bargain. The internet is great for finding deals. I highly recommend svpply.com for some unique finds sourced from other folks, Etsy.com for handmade and vintage goods and shopstyle.com to compare prices across different websites!
My caffeine level has a has a great degree of impact on how I dress in the morning. Comfort is king. I always like to pick outfits in which I know I can curl up and read a book while wearing or run to catch the bus if need be."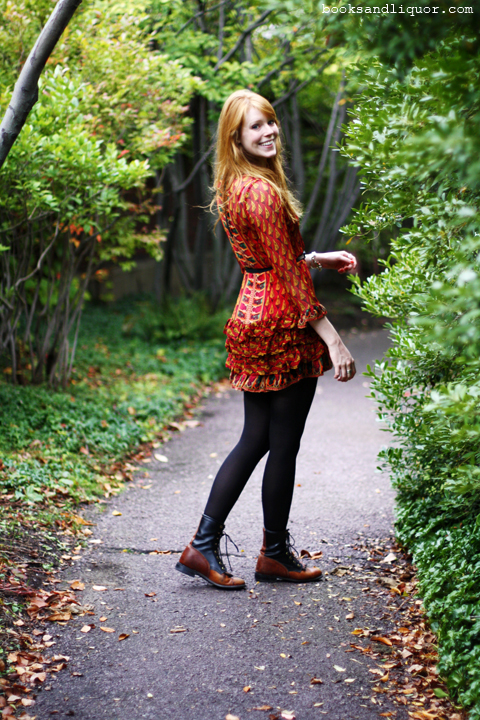 That's that for this style profile. Thanks Ali for volunteering your time and awesome wardrobe for this feature on Books&Liquor.
We'll be continuing our Style Profile series, so if you know someone in the area whose personal style & style opinions ought to be featured on Books&Liquor, let us know at talk@booksandliquor.com. Or, you can send us a message on Facebook or Twitter.
And one last announcement: We've randomly selected a winner for our Mint Julep giveaway. Congrats to Kelly, who describes her style as "comfortable and colorful… and almost like I fell out of the gap but happened upon some great accessories from local shops and artists." We'll be contacting you shortly via email! Hope you purchase something awesome with your gift card.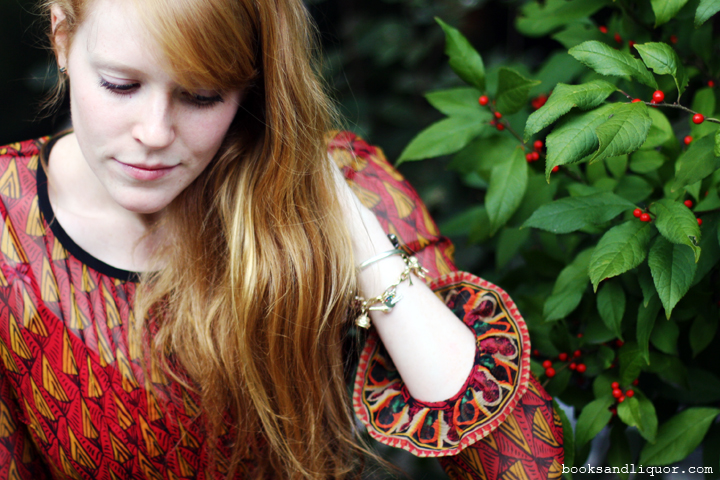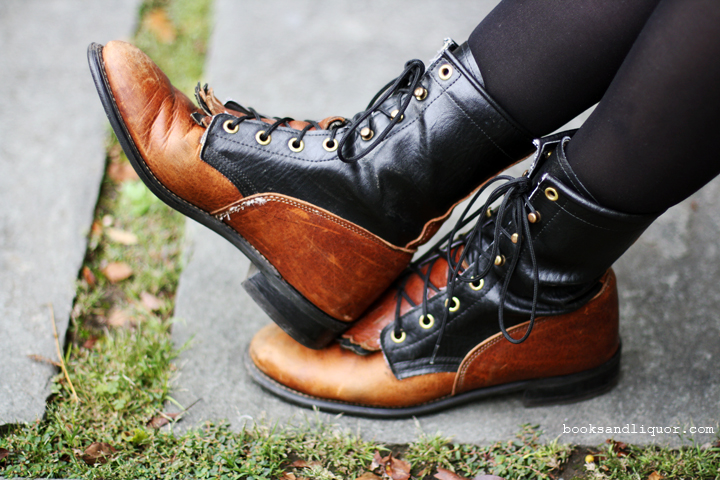 1 Comment